The on-demand economy has ushered in an entirely new era of consumer expectations around speed, cost, and convenience. How should businesses react to these demands?
Thanks to market innovators like Amazon and Uber, customer expectations have changed drastically, and enterprises are hard-put to match them with better fulfillment.
In cities, on-demand delivery is part of everyday life, with over half of urban customers expecting one-hour retail deliveries and large percentages of younger customers expecting the same. 70% of customers would happily pay more for faster, more convenient delivery.
Why is this happening?
There's a monumental and continual paradigm shift in consumer behavior and expectations. Consumers know they can get what they want, when they want it.
If an enterprise wants to keep their customers in the on-demand era, they need to provide a similar level of convenience as that offered by Amazon, Walmart, and other giants in the delivery game. And yet too often, businesses just aren't set up to provide on-demand delivery and fulfillment.
Why do on-demand delivery and fulfillment services fail?
The simplest reason why most on-demand delivery and fulfillment services fail is that brands don't understand just how complex they are to manage, and how expensive it can be to deliver high volumes at high speed. On-demand delivery works through coordinating all of your resources, systems and processes across the last mile of your supply chain, creating efficient, streamlined flows. This is the only way to reliably offer same-day delivery and pickup windows, and know that you can get orders to customers on time.
If you are challenged by launching or managing on-demand delivery, chances are that you've struggled with the following:
Short Time Frames, High Delivery Volumes
On-demand deliveries have very short time frames between orders being accepted and being sent out, leaving little room for human error. Therefore, they require a high degree of automation to be completed seamlessly and on time. With over 60% of shoppers prioritizing where they purchase based on faster or more convenient delivery options, automating the logistics of same-day or on-demand deliveries is critical to capturing market share.
Functional Silos, Goals and KPIs
The job specialization that is required to scale enterprise delivery often results in separate functional teams, each acting according to its own objectives, priorities, KPIs, performance incentives and technologies. But this is the exact opposite of the real-time coordination across teams and platforms which is necessary for successful on-demand fulfillment. These distinct systems must be turned into one synchronized unit to ensure that orders are prepared, staged, dispatched and delivered quickly. Often, new on-demand delivery software must be integrated in to existing systems (e.g. POS, TMS and others).
Inflexible Use of Resources and Delivery Flows
Team structures, performance objectives, and even roles and responsibilities may have to be rethought. For example, warehouse and inventory management solutions designed to load eighteen-wheeler trucks for middle-mile replenishment may now be tasked with staging last-mile deliveries using crowdsourced fleets. Similarly, dispatchers trained to manually plan routes may need to work with automated route planning and dispatching software, and use their free time to manage exceptions. Retail teams trained to sell and convert customers in the store need to be trained and tasked with picking and packing online orders for delivery. Retail locations may be converted into dark stores, used solely for fulfilling online orders; alternatively, they may need to turn parking spots into curbside pickup bays, and allocate employees to service pickup customers.
Some businesses may need to reorganize many of their last-mile processes and make challenging adaptations to their resources – including warehouse and store operations, dispatching, driver management, and customer-facing technologies – in order to provide customers with fast, convenient delivery and fulfillment on demand.
How quickly businesses and staff can adapt to these necessary changes can be an important factor in the success of on-demand delivery operations.
Lack of Speed and Automation
On-demand deliveries often have SLAs that are measured in minutes and not hours. Any inefficiencies or disconnect between the preparation, dispatch and delivery flows will result in poor operational performance and negative customer experiences.
These challenges are further compounded when operating at scale, causing businesses to waste expensive resources. For example, if an order is not sent to prep or staging on time, or if the delivery driver is notified to pick it up too early, then the driver will end up waiting around for the order, and will probably miss the delivery window. If there is poor delivery or pickup staging, then drivers or customers coming to pick up an order won't receive it on time – and your on time delivery rate will fall. 
With food deliveries, manual batching carries tremendous risk to food quality. If an order was prepared on time but the dispatcher waited too long while attempting to batch it with other orders in a single delivery run, the first order will arrive late, soggy and/or cold.
The same is true of retail deliveries that encounter delays. Any time that was unaccounted for in the planning process wastes expensive resources, increases delivery times, and results in late deliveries and frustrated and dissatisfied customers.
High Costs
High operational costs are a direct result of attempting to deliver at high speed and volume, without full digitization, automation, and visibility into data. Common examples include choosing delivery drivers, fleets or contractors without taking cost to deliver into consideration. Another is sending out orders without first checking if they can be batched with other orders going out in the same time window to the same area.
Furthermore, high-volume delivery like fast food and post delivery are notoriously low margin, and some of the most popular crowdsourced fleets still operate at a loss. Compounding all of this is the fact that consumers expect to receive at least one option for free delivery, and some even expect free same-day services. The delivery costs then fall on the business.
Managing Peak Demand Post Covid-19
Issues around demand have never been greater than in the post-Covid 19 world, where parcel delivery providers see packages stacked up in warehouses, waiting for logistics providers to have enough resources to deliver them. If same-day or even next-day delivery is promised, then brands and the logistics providers who service them must ensure that orders are delivered on time.
These challenges come on top of managing on-demand delivery during 'usual' peak seasons, such as the holiday rush. Each year during the holiday season, businesses have struggled to manage delivery coverage to make their promised delivery times.
Managing the lunch and dinner rushes
Restaurants face uneven demand on a daily basis. During the rush lunch and dinner hours, restaurants typically have to scramble to send out enough drivers to cover deliveries. Before, in between and after those two blocks of time, the number of drivers they need dwindles. Often, restaurants will take employees who typically function in other positions and deploy them as drivers during the lunch and dinner hours. However, given that driving usually has a different pay rate than other roles, restaurants have to carefully track when these employees perform which roles.
Lack of Customer Focus
The entire value proposition of on-demand delivery is the speed and quality of the delivery experience. This places the supply chain front and center when it comes to the customer experience. However, most supply chain organizations lack the technology to measure and improve the customer experience, and the majority do not see customer-centricity as important enough to invest in. Instead, supply chain organizations are substantially more invested in cost saving, increasing revenues, and supporting new business models (53%).
Without a focus on the customer, successful on-demand delivery at scale becomes exceptionally difficult. However, There is no reason why supply chains cannot break the mold and adopt a customer-centric strategy.
These capabilities, when successfully adopted, can help businesses offer competitive on-demand delivery experiences:
The 10 Key Features to Providing A Great On-Demand Delivery and Fulfillment Experience
Accurate Delivery Quotes and Convenient Scheduling Options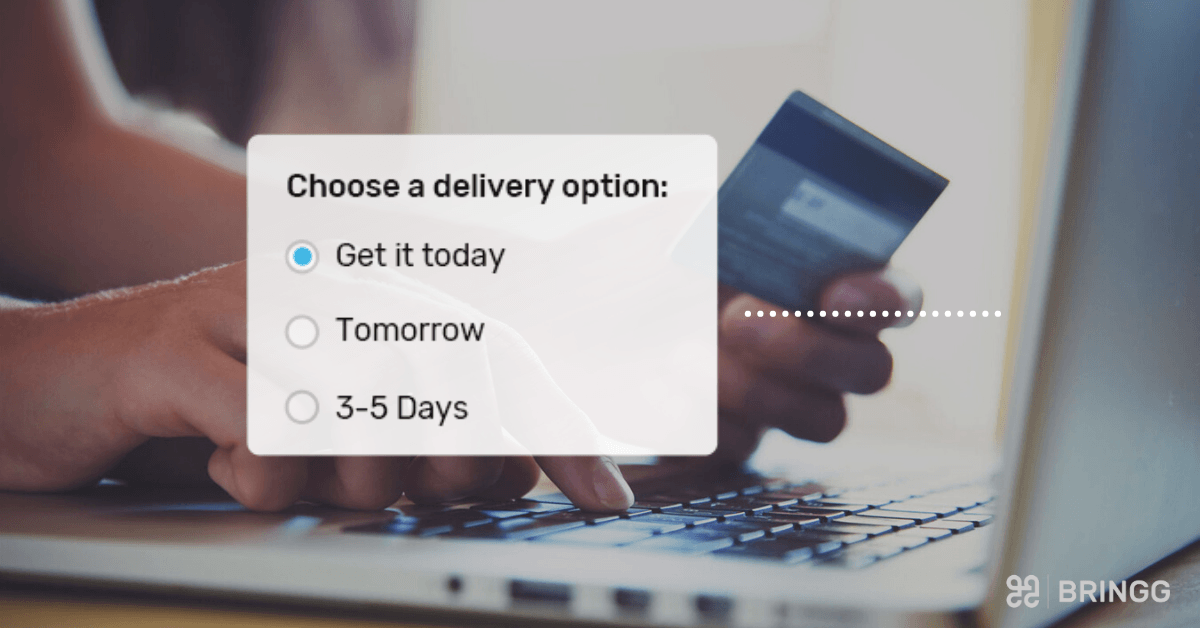 You need convenient, accurate options at checkout for delivery or pickup. That includes where and when the delivery or pickup happens. Ensuring these times are accurate isn't simple – you need to know everything from where your inventory is, to fleet availability. For curbside, is there available car space at that time?
You need data on everything across the last mile, and you need automation to provide instant quotes to users. Of course, you have to ensure you have those convenient delivery times (e.g. short delivery windows, same-day delivery) and convenient fulfillment options (curbside, click and collect, same-day delivery) set up in the first place.
Coordinated, Flexible Delivery and Fulfillment Management
In order to provide the half-hour or two-hour delivery and shorter delivery windows that will garner you loyal customers, you'll first need delivery and fulfillment flows that are fully digitized, synced, and optimally coordinated from end to end – from receiving orders, to allocating orders to drivers, and all the way to the customer's door.
Pulling this off cost-effectively requires visibility across the entire last-mile flow, for all fulfillment models. That way, you can understand how best to utilize your existing resources in order to fulfill these on-demand orders.
For example, in order to fulfill same-day pickup of retail orders, you need to see where inventory is available locally, source orders to the correct location, and have retail staff locate the item in time for pickup. The same applies to ship-from-store orders: store inventory, retail staff and drivers (including external fleets) need to be synced, and that requires that all data be collected in a central location.
This is especially true if you work with multiple aggregators or delivery providers.
Read: Third-Party Delivery Done Right – Why We Built a Delivery Network
Many enterprises still work with legacy systems that can't transfer data in real time. Even more companies have little or no visibility into data from third party logistics providers, couriers and crowdsourced fleets – let alone a central location to store and manage that data. Start by finding a solution that can track and measure data from delivery parters, so you have better visibility and control over your delivery flow at any given moment.
Automation, Automation, Automation
Time is not only money; it's also the greatest commodity that we have in today's on-demand world. If you can't get an order to a customer quickly, you will lose them.
To fulfill demanding SLAs, you must embed automation into every aspect of the delivery operation: from backend systems to manager, driver and customer-facing communications.
An automated dispatching and routing system can make the right decisions based on business rules related to cost, volume, and other business goals, and determine whether to dispatch an order to an in-house driver, a crowdsourced fleet or some other delivery provider. The system can also make automated decisions regarding extending delivery times or offering alternative delivery options.
These decisions must all take place in real time, which necessitates automation technology and real-time integration between all of your systems, including those of your external providers.
Usually, delivery flows contain pockets of inefficiency in specific areas, like dispatching and routing. Having an automated system in place that uses smart business rules to find the right fleet or driver and optimize their route is critical for getting orders to customers as quickly as possible, without expending additional resources or operational costs. Automated order batching will allow you to get out more orders more quickly, without increasing driver headcount.
See: Adding Intelligent to Multi-Fleet Dispatch and Routing
Curbside, Click and Collect, and alternative pickup locations
Create an omnichannel delivery and fulfillment strategy. Start by turning on and supporting curbside pickup, click & collect, and alternative pickup locations. Once synced with your delivery operations, these models can be optimized to enable on-demand deliveries and pickup – especially when combined with local delivery and retail fulfillment.
Fulfill orders locally through ship-from-store and in-store pickup
Take advantage of local inventory to reduce delivery costs. Use data and data analytics to understand where and when each delivery option and its connected systems (inventory, warehouse, transportation management systems) will be the most cost effective. Then, set up your delivery flows and resources (inventory, drivers, fleets and other teams) and systems accordingly in order to offer better shipping prices – or no price at all – in competitive time frames.
Driver Visibility and Data
Having high-level data on delivery fleets out on the road, as well as a granular look at each individual driver, is what allows companies to optimize delivery times and streamline operations.
Digital Proof of Delivery, digital bar code scanning, and real-time driver tracking apps are all features that help businesses keep track of delivery fulfillment. It can also reduce the customer support teams' workload by verifying exactly where and when deliveries took place – and if they didn't take place, can explain why not. Driver data also makes it easier to pinpoint the source of inefficiencies and correct them quickly.
Customer Communications, Tracking and Alerts
Order tracking and real-time services are only optional if you don't mind being marginalized by competitors who put the customer at the center of their business. Look for solutions that can send push notifications to customers when their order leaves the warehouse or store, and alerts customers when the order has arrived. Pickup customers, too, should receive notifications when their order is ready for pickup, with information on where to meet it.
When a driver is running late, or something unexpected happens, customers should be alerted through automated push notifications. This will prevent anxiety on the customer's part, without requiring additional work from drivers or other teams. This order tracking and real-time visibility should be available to customer, dispatchers, operational managers and leadership.
Work with delivery networks and multi-fleet dispatching
Hiring third party delivery providers or crowdsourced fleets will provide additional manpower for peaks in demand. This only works if you can predict order demand, and use flexible dispatching (e.g. on a 'need-only basis' rather than paying a subscription fee to a 3PL or crowdsourced delivery services.) This will allow brands to hand the ebb and flow of employees or drivers at peak times, while ensuring that there are enough drivers on hand for on-demand delivery.
Another solution is to use staff for multiple roles – such as using grocery employees to stage orders for curbside delivery in peak curbside hours, and then turn back into pickers or delivery drivers for the next few hours of the day. In this scenario, you'll need to carefully track hours and manage payments per role.
Driver Performance and Ratings
Driver ratings are invaluable to anyone working with in-house delivery teams or contracted fleets, because they give insight into where the delivery experience can be improved. It's also a booster for the customer experience, giving consumers the power to pick and choose drivers, and feel more in control of the delivery overall. Use on-demand delivery apps which track driver performance and let customers rate their delivery experience.
Exceptions Handling
With on-demand deliveries, there's little time to check quality or verify driver availability. Exceptions like late changes to orders, unexpected shortages in inventory or driver availability can disrupt the entire delivery flow.
Make sure that data from all teams is synced in real-time, so that changes in one system (such as order cancellations or a change in delivery drivers) is updated in all other systems. This will help prevent exceptions from affecting the customer's experience.
Customer Experience is all about ROI
However you address the challenges of on-demand delivery, never forget that the goal is to create happy customers. In an era where almost every industry is commoditized, brand loyalty is invaluable. Implementing the right delivery software and fulfillment technologies will help you offer the on-demand services that create great experiences and cement customer loyalty.